Biographies
Mr. Bruce Mosby, Vice President
Appointed: July 2010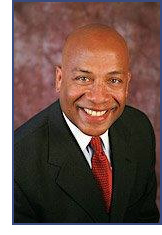 Bruce Mosby is currently the President of Mosby and Company Inc., a License Partner of Peet's Coffee & Tea. He operates two Peet's Coffee & Tea locations in Phoenix Sky Harbor Airport's Terminal 4.
Mr. Mosby has successfully managed large, small, start-up, franchise, entrepreneurial, and rapid-growth organizations during his career. To name just a few, he has been a leader at Hilton Hotels, Long John Silver's Restaurant Corporation and Jenny Craig Weight Loss Centers. Mr. Mosby came to Phoenix in 1997 as the chief operating officer of a start-up specialty retail concept, Spincycle Laundromats, Inc. Most recently, he was President of All About People, Inc., a Phoenix-based full-service staffing and executive recruiting firm.
A graduate of Phoenix Valley Leadership's Class XXI, Mr. Mosby is a past board chair of the Phoenix Sky Harbor Aviation Advisory Board and served on the boards of the following organizations: Magnet Capital, Phoenix Symphony, Drugs Don't Work in Arizona, Self-Employment Loan Fund, Greater Phoenix Convention & Visitor's Bureau Multicultural Council, and the Arizona Women's Chamber of Commerce.
Mr. Mosby also became involved in the Greater Phoenix Chamber of Commerce after being named president and CEO of the Greater Phoenix Black Chamber of Commerce. During his tenure with the Black Chamber, he established key corporate and community partnerships throughout Arizona, which enabled the organization to become a well-recognized, collaborative entity in the community.
A native of New York, Mr. Mosby earned his undergraduate degree from Cornell University's School of Hotel and Restaurant Management.