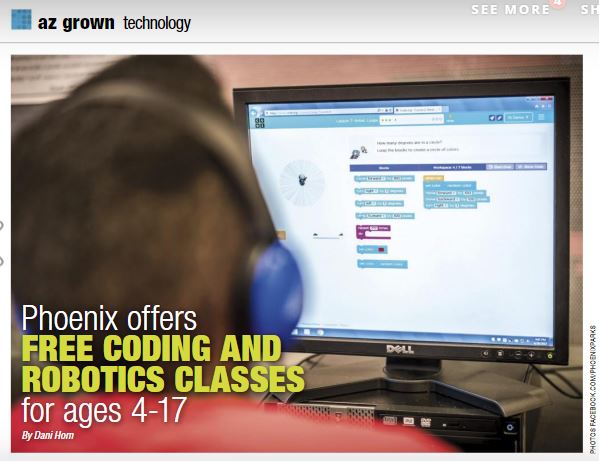 Only a fourth of Arizona's elementary schools offer computer science courses. But the city of Phoenix's new codePHX program aims to jumpstart these skills by teaching hundreds of kids coding, 3-D printing, robotics and more — for free.
Funded by the Arizona Community Foundation and Phoenix IDA nonprofits in partnership with the Phoenix City Council, codePHX was created to improve career opportunities. Nearly 10,000 computing jobs are vacant in Arizona, and hundreds of companies are looking for people with these skills according to Code.org, a nonprofit dedicated to expanding access to computer science and increasing participation by women and underrepresented minorities.
"Today, almost every job in America, in some way, shape or form is a tech job or has something to do with tech, and that is going to continue as we move forward," says Daniel Valenzuela, the Phoenix's District 5 councilman who helped champion the program. "As the industry continues to evolve, our workforce also needs to evolve. So this program is about workforce development, it's about education, and it's about giving our youth in Phoenix an opportunity to compete for 21st century jobs."
CodePHX also aims to increase tech literacy in traditionally underrepresented groups — girls, minorities and economically disadvantaged youth. The classes are for ages 4-17.
"The goal is to make [coding lessons] accessible, equitable and free to all of Phoenix's youth," says Valenzuela, who is a Glendale firefighter. "But we do understand that in many tech jobs in America, there is a major gender gap. There's also a gap in demographics that shows very few people of color are being hired for these [tech] positions."
Valenzuela says so far the codePHX classes have nearly even male/female ratios. "There many different languages spoken in the classes, and I think it's a true reflection of the people who live in Phoenix," he says.
CodePHX was initially introduced in 12 Phoenix libraries and recreation centers and will expand to 29 locations in three years — including 17 additional library branches and community centers and a mobile coding lab that is part of the Parks and Recreation Department's mobile recreation program.
Both drop-in classes and eight-week courses are available. CodePHX offers four types of classes by age: Little Bytes introduces ages 4-7 to basic coding language with apps and games; Coder Dojo and 3-D Modeling for Beginners use popular coding websites like code.org, kodable.com and tinkercad.com to teach ages 8-17 about programming; and Hacker Heaven lets kids of all ages try science experiments.
Karen Crawford, a library assistant and codePHX instructor, works to impart coding skills that will help her students in high school, college and beyond. The websites she uses allow students to move at their own pace.
"Eight and 9-year-olds working on code.org usually have no problem at all," says Crawford. "It's set up so that it is easy enough that the kids can learn it, and then they repeat it in a way that they can move forward slowly. Each [learning] exercise is similar to the last, so they progress slower, but once they have gone through the fundamentals, they tend to progress more quickly to things like block coding."
For Councilman Valenzuela, computer programming and childhood creativity go hand in hand. Young kids, he says, are naturals when it comes to STEM activities.
"Coding, unlike most other jobs in other industries, has really captured the interest of our youth — even in kids as young as 4," says Valenzuela. "It's teaching them STEM through games at an early age, and at some point … they want to actually create a game or an app. Whether they realize it or not, they're understanding what it is to be a problem-solver. They're using their minds to create something new."
codePHX locations in Phoenix:

Bret Tarver Learning Center, 1516 N. 35th Ave.
Cesar Chavez Library, 3635 W. Baseline Road
Cholla Library, 10050 Metro Parkway
Desert Sage Library, 7602 W. Encanto Blvd.
Harmon Library, 1325 S. Fifth Ave.
Ironwood Library, 4333 E. Chandler Blvd.
Mountain View Community Center, 1104 E. Grovers Ave.
Palo Verde Library, 4402 N. 51st Ave.
Sunnyslope Youth Center, 1702 W. Peoria Ave.
Vernell Coleman Recreation Center, 830 W. Tonto St.
Yucca Library, 5648 N. 15th Ave.
Burton Barr Central Library, 1221 N. Central Ave.
New sessions start in January. See a full schedule or register online at phoenix.gov/parks/classes-and-programs/codephx