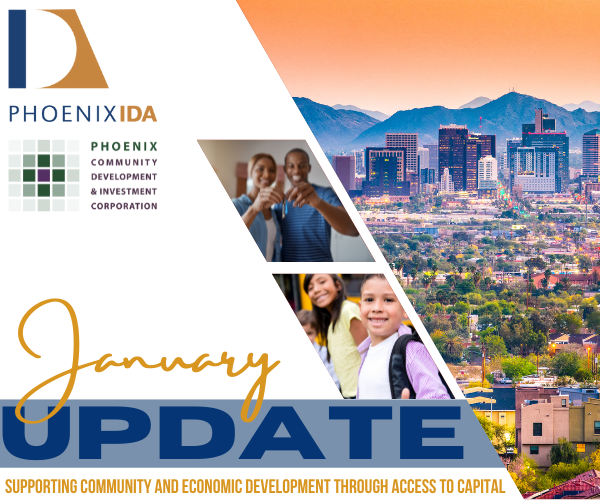 NONPROFITS AWARDED $2.9M IN GRANTS
As part of the community-focused missions of both the Phoenix IDA and PCDIC, the organizations jointly awarded $2.9 million to nonprofits serving Phoenix and Maricopa County in 2022. The Phoenix IDA and PCDIC maintain Community Development Funds with the goal of awarding grants to nonprofits in the areas of:
Affordable housing
Healthcare innovation
Youth and family development
Economic and community development
Funding for these local projects comes primarily from the Phoenix IDA's public financing of out-of-state projects and PCDIC's private revenue attracted by New Markets Tax Credit projects, which are federally funded. Since 2011, the Community Development Funds have allocated more than $10 million to local nonprofits.
Congratulations to our most recent round of grant recipients!


PCDIC DEPLOYS $15M TO CHILD CRISIS AZ
PCDIC recently provided funding of a $15 million New Markets Tax Credit (NMTC) project for Child Crisis Arizona, a Mesa, Ariz.-based nonprofit focused on preventing child abuse and neglect. PCDIC deployed $15 million of its $55 million CY2020 NMTC allocation from the U.S. Department of Treasury's Community Development Financial Institutions Fund. The NMTC program is designed to stimulate private investment in projects that create substantial community impacts in economically distressed communities.

Funds were provided to Child Crisis Arizona in order to partially reimburse the acquisition of approximately 2.4 acres of land located at 424 W. Rio Salado Parkway in Mesa, Ariz., and to build a 38,000-square-foot Center for Child & Family Wellness on the site. The project is designed to be a climate-friendly, net-zero energy facility.
Many of Child Crisis Arizona's programs, including foster care and adoption services, family education programs, behavioral health and counseling services, and art and music therapy are currently operating at capacity due to rising demand for services in the community and lack of space at existing facilities for program expansion. This project will enable Child Crisis Arizona to increase capacity of its programs, increasing services to an additional 2,700 individuals annually.

VERMA AND ED PASTOR SCHOLARSHIP APPLICATION NOW OPEN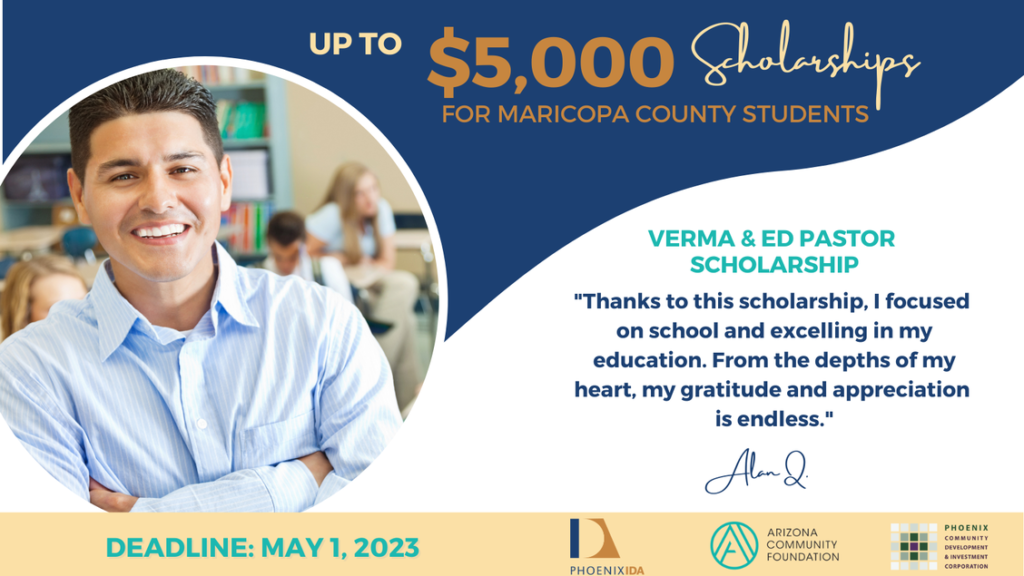 The Verma and Ed Pastor Scholarship, which is sponsored by both the Phoenix IDA and PCDIC and administered by the Arizona Community Foundation, awards up to $5,000 in scholarship funds to students with financial need attending an accredited, public college or university in Maricopa county and pursuing any field of study. The scholarship application is now open through May 1, 2023.

The Phoenix IDA Board of Directors is scheduled to meet at 3 p.m. January 19, 2023.