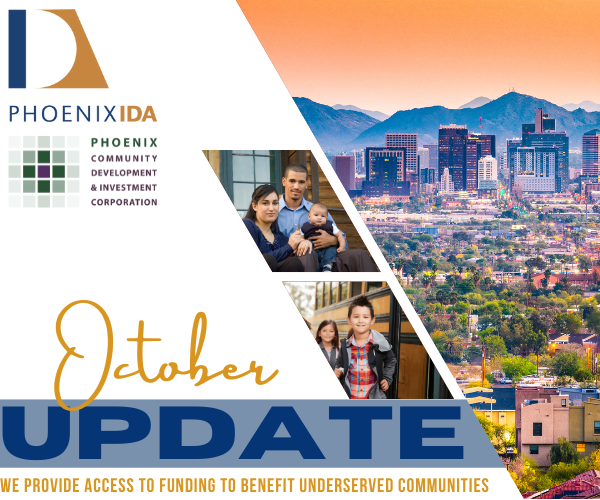 PCDIC Awarded $60M New Markets Tax Credit Allocation
PCDIC was recently awarded a $60 million New Markets Tax Credit (NMTC) allocation from the U.S. Department of the Treasury's Community Development Financial Institutions Fund (CDFI Fund) to spur investment and economic growth in low-income communities within Maricopa county.
This marks the fourth consecutive year that PCDIC has received NMTC funding following last year's allocation of $45 million, and previous years' allocations of $55 million and $35 million, respectively. The NMTC program is designed to stimulate private investment in projects that create substantial community impacts in economically distressed communities. The program helps to fill project financing gaps by enabling investors to make larger investments than would otherwise be possible.
PCDIC is one of 102 Community Development Entities (CDEs) across the U.S. to receive a total of $5 billion in funding for the 2022 calendar year allocation application. Qualified areas for the federal NMTC program are based on federally designated census tracts. Historically, NMTC program awards have generated $8 of private investment for every $1 invested by the federal government.

Historic Monroe Street Abbey Rises From the Ashes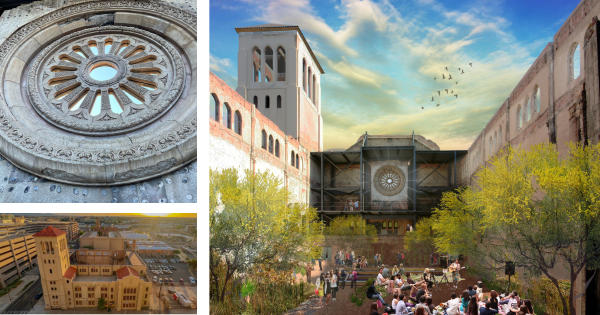 Top left: The abbey is known for its elaborate, Gothic-style exterior, which is being preserved. Bottom left: This historic downtown Phoenix church was built in 1929, destroyed by fire in 1984, and is now getting new life. Right: This creative rendering shows how the interior of the building is planned to have a lush, garden-filled atmosphere ideal for hosting community gatherings.
A historic downtown Phoenix church destroyed by fire is getting new life and being transformed into an event venue with restaurants and a speakeasy. The Phoenix IDA recently closed on a loan in support of the Monroe Street Abbey project, which was originally constructed in 1929 at Monroe Street and Third Avenue. The building owner has preserved the large, Gothic-style exterior and reinforced the walls destroyed in the fire in order to meet building codes, and funding will support the renovation of the interior.
"It's been almost four decades since the 1984 fire that destroyed the church, and this Phoenix landmark has been sitting empty since then," said Terry Goddard, former Phoenix Mayor and Arizona Attorney General and proponent of saving the building. "We're looking forward to transforming it into an event garden where couples can get married, and we can host concerts and performances. It will be a place for the community to come together and celebrate life's many milestones."
The project complements a nearby affordable housing project with 94 units called the Monroe Street Abbey Apartments, located adjacent to the historic church building. Plans call for small business tenants to occupy the building; a local event planner and caterer are among the first tenants. Project renderings depict a lush garden atmosphere with shaded gathering spaces. The venue is set to reopen in spring 2024.
Both the Arizona Community Foundation and the Local Initiatives Support Corp. also provided financing.

PCDIC Welcomes Joseph Losada to Board of Directors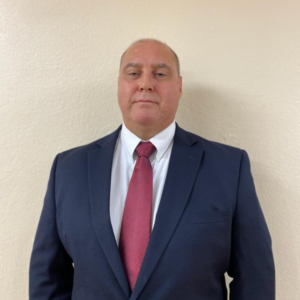 Joseph Losada, CPA, MBA, was recently appointed to serve on PCDIC's board of directors in addition to the advisory board as a low-income community representative. Losada currently serves as chief financial officer (CFO) of the Human Services Campus, a collaborative force of 16 partner organizations in Phoenix with the shared goal of ending homelessness. Prior to this role, he served as CFO of Valle del Sol. Losada also spent four years serving as comptroller for the Phoenix IDA, overseeing all accounting and financial reporting for PCDIC's New Markets Tax Credit (NMTC) business. His expertise in the NMTC program will greatly benefit the board.

Phoenix IDA CFO Murray Boess Appointed to NALHFA Board
The Phoenix IDA's Chief Financial Officer Murray Boess was recently appointed to the National Association of Local Housing Finance Agencies (NALHFA) board of directors. NALHFA is a national association of professionals working to finance affordable housing in the broader community development context at the local level. As a nonprofit, NALHFA is an advocate before Congress and federal agencies on legislative and regulatory issues affecting affordable housing and provides technical assistance and educational opportunities to its members and the public. Since 2010, Boess has been responsible for the accounting operations and investments of the Phoenix IDA and its related organizations. Congrats on this appointment!

BOARD MEETING INFO COMING