Message from Juan Salgado, CEO, Phoenix IDA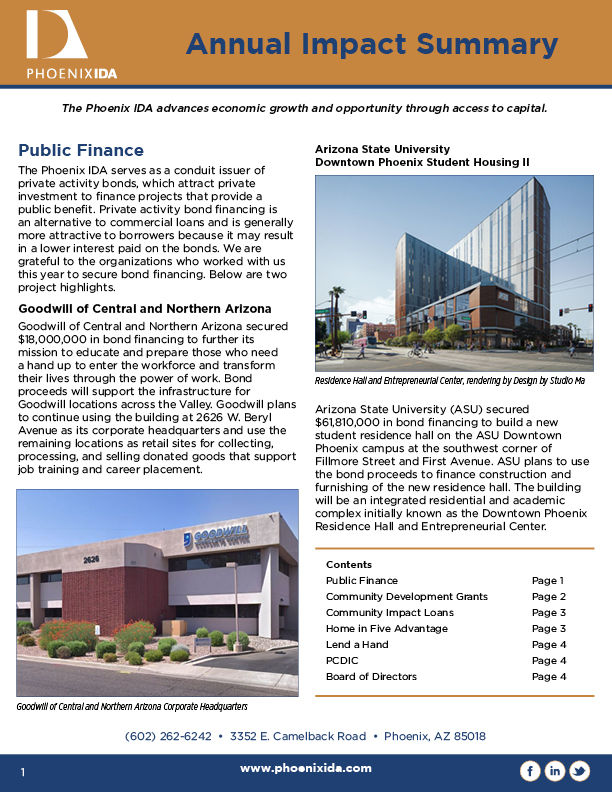 Each year, the Phoenix IDA sets out to invest in and serve individuals and communities. Those efforts are possible because of our mission to advance economic growth and opportunity through access to capital.
The Phoenix IDA expanded its collaborations and made new connections with many of the Valley's most impactful leaders and organizations throughout 2019. We are pleased to provide you with more details about those efforts in our Annual Impact Summary.
Since 2017, the Phoenix IDA has supported the Phoenix Community Development & Investment Corporation, also known as PCDIC. This organization was created by the City of Phoenix and is a self-funded, nonprofit entity guided by its Board of Directors. PCDIC's mission, like the Phoenix IDA's, is to fund projects that improve the quality of life of individuals who live and work in underserved areas throughout the Valley.
This year, in partnership with the City of Phoenix, PCDIC is investing funds to help solve the affordable housing crisis by providing low-interest loans for multifamily housing projects. Additionally, PCDIC is boosting homeownership for low-income families and neighborhoods through the Home in Five Advantage program.
Stay tuned for more about these efforts and other products resulting from our collaboration with PCDIC and several local financial and philanthropic organizations.
Please enjoy the Phoenix IDA Annual Impact Summary.