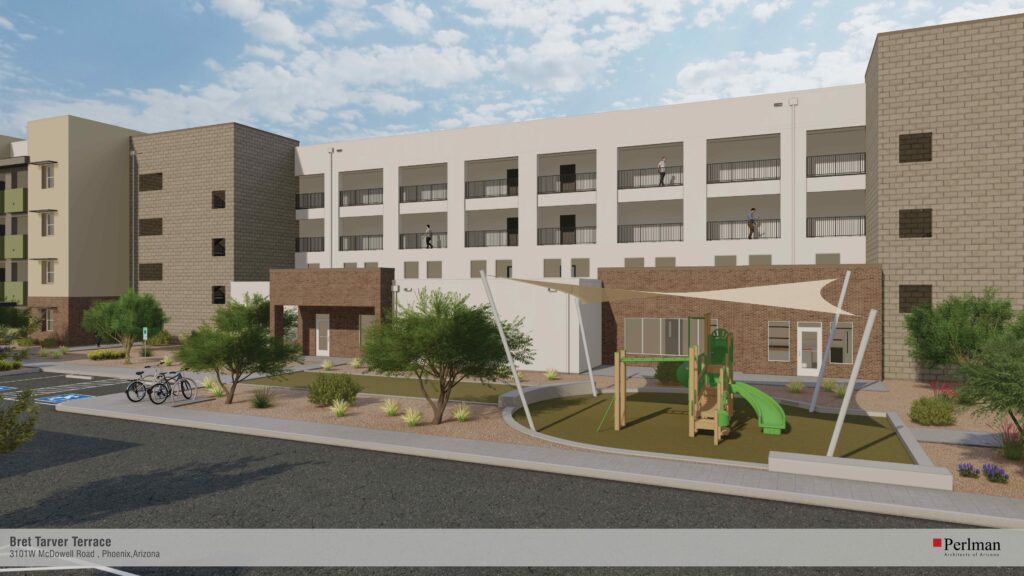 The Phoenix IDA recently provided $18.4 million in Multifamily Housing Revenue Bonds in support of Bret Tarver Terrace, a 96-unit affordable housing project that will be constructed on 3.42 acres on the southwest corner of McDowell Road and 31st Avenue in Phoenix. The project will include one-, two- and three-bedroom rental units serving families earning at or below 60% of area median income.
UMOM Helping Hands Housing Services – part of UMOM New Day Centers, the largest homeless shelter for families in Arizona – is developing the project in an effort to add more affordable housing options and help address the growing homelessness challenges in Phoenix.
"UMOM is thrilled to be part of this innovative and complex transaction. We are thankful for our partnerships with the Phoenix IDA, Arizona Department of Housing, Maricopa County, and the City of Phoenix," said UMOM CEO Jackson Fonder. "We look forward to completing this community project and providing much needed affordable housing."
Innovative financing solution supports affordable housing
The Bret Tarver Terrace project is unique in that it is being built on surplus land previously owned by the Isaac School District. With changing demographics and new school choices, many local school districts are in possession of excess land. These districts have expressed interest in selling excess land; however, the sale of school district-owned land is tightly regulated by the State. 
"We worked hard to create a process that would allow for the district land to be purchased and the old, vacant school buildings to be removed so a new, energy-efficient affordable housing project can be built," said Juan Salgado, CEO of the Phoenix IDA. "There is great public need for more affordable housing in Phoenix, and this is an excellent example of reuse of the site."
The Phoenix IDA established an innovative process, called the School District Surplus Land Initiative, that allowed for the purchase of the land from the Isaac School District via a partnership with the City of Phoenix. In order to do this, the project had to serve a public purpose: in this particular case, adding more affordable housing in Phoenix. Bret Tarver Terrace supports the City's goal of building or preserving 50,000 housing units by 2030, as rents have increased significantly across the Phoenix metropolitan area in recent years and the area is dealing with a major shortage of homes.
"Selling this excess land allows our school district to utilize funds from the sale of this property and reinvest them into our district, ultimately benefiting the students we serve and the teachers and staff we employ," said Dr. Mario Ventura, superintendent of Isaac School District. "Moreover, when completed, Bret Tarver Terrace will become home to many families in need of affordable housing who have children that can become part of our Isaac School District family." 
In order to finance this project, the City of Phoenix, Maricopa County and the State of Arizona all collaborated to provide funding in support of Bret Tarver Terrace.
"Thanks to extensive collaboration and a commitment to innovation, Bret Tarver Terrace will help us expand affordable housing choices for Phoenix families," said Phoenix Mayor Kate Gallego. "I'm grateful to the Phoenix IDA for their leadership and proud that the City of Phoenix was among the many who were committed to seeing this through to fruition. I'm hopeful that this project inspires the development of additional, much needed projects down the road."
Residents to receive added services
Once completed, residents of Bret Tarver Terrace will have access to energy-efficient amenities as well as a community room, barbecue and picnic areas, a computer lab, a fitness center, a community garden space, playground and easy access to public transportation. Computer training, financial literacy resources and job-seeking opportunities will also be available to residents. Other available services may include English language proficiency classes and support services for health, nutrition, life skills and parenting.
UMOM Helping Hands Housing Services has nearly two decades of experience developing similar affordable housing projects and has successfully completed 12 affordable communities to date totaling close to 900 units of housing. Bret Tarver Terrace will add 96 units and is expected to be complete in early 2025.